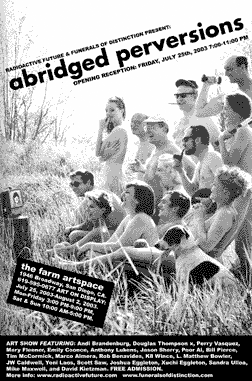 'This just in from Radioactive Future...'

"Hello Everyone,

We need help to hype this show! It should be a good one, the
farm has been in operation for a year now and has had good
turnouts.
I have posted a flyer on the site, we really appreciate anyone
who can help us print and distribute. They fit 2 up on a letter
size copy. I can help if you have any problems printing.
Because of the failing economy, art is harder to sell than ever.
This show will be very important in determining if we can
continue to do shows for the rest of this year.
We lost money again on the last show at the bookstore. The
bottom line is, we can't continue to do shows unless they at
least break even. We need your help!
We have one more show scheduled at M-Theory on Aug 28. We are not scheduling any more shows after that, unless our financial situation improves soon. I am still looking for more web/graphic design/screenprinting jobs to keep the collective alive, but it is a very difficult struggle. We can't do it alone.
Thanks everyone for all your support during the last few years,
we will continue to try to keep the SD underground art scene
alive as long as we can.
Bill"
To download a flyer, go here.

***************************

'Spoken Word Circus'

Spoken Word Circus starring The Junk Boy Sideshow with poems and stories from Bucky Sinister, Jimmy Jazz, Cecil Hayduke and Michael Klam will be held Friday, July 18 at 8 p.m. A $5 donation is asked. The Muse is at 2911 University Ave. in North Park. Call (619) 296 8539 for more information.

The Junk Boy Sideshow is known for fire breathing, flame eating, sticking needles into his eyes and hammering nails into his skull. Don't sit too close.

Bucky Sinister, from San Francisco, is a world-reknown poet, so infamous as to be included in the Outlaw Bible of American Poetry.
Jimmy Jazz is San Diego City College's Writer of the Year 2003.
Michael Klam, Ocean Beach's favorite son, was a member of the 2002 national Poetry Slam Team.
Cecil R. Hayduke's "R" is for Rasputin.
For more information contact: jazz@incommunicado.com
******************************
Dizzy's shows
The following events are happening at Dizzy's, 344 Seventh Avenue between J & K on the edge of downtown San Diego's East Village.

On Sunday July 20, The Ira B. Liss Big Band Jazz Machine featuring vocalist Jimmer Bolden and special guests will perform at 7 p.m. The cover is 8 p.m.
On Monday Mon July 21: Benefit for the San Diego Chapter of the Peace & Freedom Party featuring spoken word from Theresa F. Assata, Jim Moreno, & Michael Navarro plus all female band BRAG DOLL 6PM - $7 cover

On Friday July 25 there will be an evening of International jazz with Spanish tenor saxophone sensation Fermin Rivero and his Quintet. The show starts at 8:30 p.m. with an $8 cover.